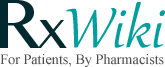 Over the past decade or so, people have begun to turn more and more to the Internet to do their research on medical conditions and medications. RxWiki, an Austin, Texas-based company, has been offering patients an easy way to get all the medication information they need in one place.
RxWiki is a digital pharmacist network that provides patients with the ability to achieve "patient education, informed decision-making, and improved medication adherence," according to the company's website. It is, essentially, the "wiki resource" of the pharmacy world and designed to take the place of those thick medication guidebooks of the past. As Donald Hackett, CEO of RxWiki, Inc., said, "Printed medication guides just don't work anymore."
But with most Internet users lessening their use of basic search engines such as Google and general websites, instead opting for social media networks such as Facebook and Pinterest, just having a website doesn't necessarily work anymore either. That's why the pharmaceutical information company now offers a Pinterest page that is designed to provide quick, easy access to information about medications on a variety of conditions.
There are many reasons the company has decided to venture into the Pinterest world, with the user demographics being key. According to Hackett,
"Approximately 80% of Pinterest users are women. And since women make most health decisions, the Pinterest platform offers a significant opportunity for pharmacists to educate patients and their families."
Not only are the demographics of Pinterest users a key reason for Rx Wiki to join, but the sheer number of users allow the digital pharmacy to reach more customers than would likely find their page through a general search. In fact, Pinterest was the fastest social independent website to reach more than 10 million unique visitors a month in the United States. Today, the number of users is higher than YouTube, Google+ and LinkedIn combined.
Joining Pinterest will allow RxWiki to be easily accessible to all those users, but it also makes finding the information easier than ever. Within one day of launching the RxWiki Pinterest page, they already feature over 75 boards with over 1,000 pins – all of which are categorized in an easy-to-find manner.
Whether a patient is interested in learning about over-the-counter medications, prescription medications, or all natural remedies, the RxWiki Pinterest page will have a board to suit those needs. With the benefit of pictures and even links to videos, it makes it easy for patients to understand what they are reading and identify medications they may be taking. It is also making it easy to share information with friends or family – they simply have to repin an item. They will still be the "trusted, timely medication encyclopedia that empowers patients to play an active role in managing their health" they have been, just easier to find and use than ever before.